For those who are interested in Thermal Imaging……….
I did a second inspection last week for a client. On the first inspection I had performed for him, he had looked at a house that had rather obvious stucco problems. You can plainly see the water stains on the stucco veneer of the house.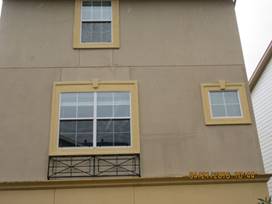 The client really wants to buy a house in this addition so for his second house he selected a house that did not appear to have stucco issues. As you can see, there were no big warning signs in the form of water stains on the stucco veneer of the second house.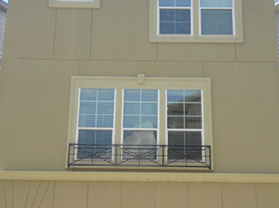 On this second inspection I took two different moisture (water) meters and a thermal imaging camera of good quality. The interior walls of the house did not show any water damage. But the water meters did.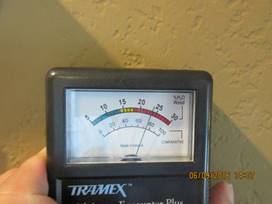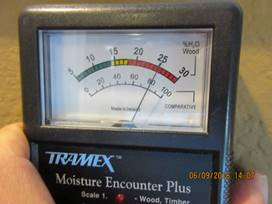 These readings show a relative water content in the drywall in excess of 60%. Water contents in excess of 16% in drywall are sufficient to support microbial organic growths (mold) and water contents in excess of 20% are sufficient to cause the wooden framing components to rot.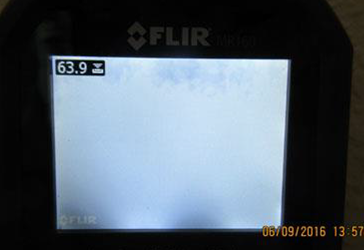 Obviously the interior drywall has very high water contents.
Here are the thermal imaging photographs of the areas of the walls where these meter readings were taken.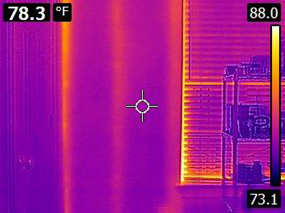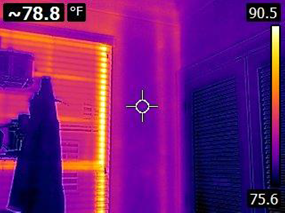 The photographs really don't clarify the issue unless you are well trained in reading the images. The images show differences in the temperature readings of the walls. This is very helpful for energy considerations. They are not so helpful for water. Just at the aiming mark on the right side photograph was were the highest water contents were found with the meters. As you can somewhat tell, the coloring is slightly more intense there. The next highest levels were even with and below the window sills. You can see the color becomes more intense and deeper in those areas.
While Willcox Inspections LLC now offers thermal imaging inspections, if you are concerned about water penetration or if you are considering purchasing a stucco clad house, you really want the interior walls tested for water content.